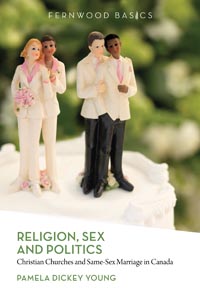 Paperback ISBN: 9781552665237
Paperback Price: $18.95 CAD
Publication Date: Aug 2012
Rights: World
Pages: 144
Buy Now!
Examination Copy
Professors/Instructors in Canada: We will provide examination copies of our books for consideration as course texts. We do reserve the right to limit examination copy requests and/or to provide books on a pre-payment or approval basis. For examination copy requests from USA, UK and Europe, please see our Ordering Page. For requests from all other countries—shipping charges will apply.
Request Examination Copy
Religion, Sex and Politics
Christian Churches and Same-Sex Marriage in Canada
Same-sex marriage continues to be a heated issue in Canadian politics. Why does this issue persist in the headlines and remain so controversial? What place does religion have in legislative and legal decisions? Religion, Sex and Politics analyzes the same-sex marriage debate in Canada by examining the intersections between religion, sexuality and public policy. Furthermore, the various arguments made by religious groups, both for and against same-sex marriage, are discussed, illustrating the range of perspectives on sexuality espoused by Christian groups and the numerous ways in which they influence the outcomes of legislation and court decisions.
Contents
Introduction • Sexuality in the Christian Churches • Marriage and the Churches: The Theological and Social Underpinnings of Views on Same-Sex Marriage • Same-Sex Marriage and the Christian Churches in Canada • Analysis of the Arguments For and Against Same-Sex Marriage • Responses of Courts and Legislators to the Churches • Conclusions • References
About the Author
PAMELA DICKEY YOUNG is a professor in the School of Religion at Queen's University.